5 Container Ideas for Patios
Expand your container garden repertoire with head-turning combinations.

Ready to change up your porch and patio décor? Try unusual or intentional plantings to create container gardens guaranteed to stoke neighborhood envy. Your container ideas don't have to be complex—a 4-inch pot of clubawn grass dropped into a die-cut metal cache pot boasts effortless charm.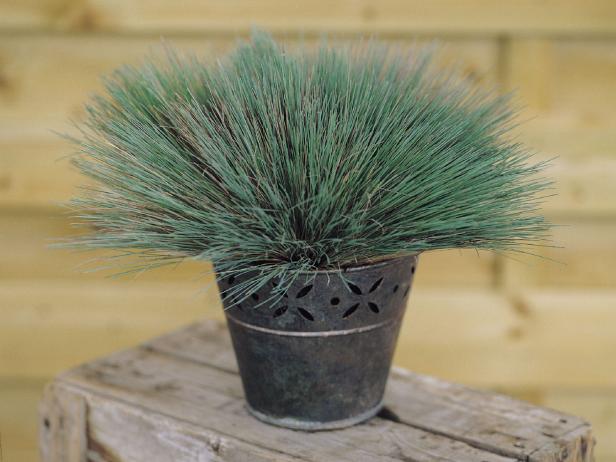 Clubawn Grass In A Pot
Corynephorus Spiky Blue, also known as clubawn grass, makes a striking container garden.
Ball Horticultural Company
Short perennial grasses like clubawn grass (also known as Corynephorus Spiky Blue) sail through summer with regular watering and twice-monthly fertilizer. At the end of their container life, pop them into a planting bed. Peruse the perennial grasses at your favorite garden center to find other good candidates for containers.
Yellow And Pink Container Garden
Shades of bubble gum pink and sunny yellow fill a container with glowing beauty all season long. This pot features Holy Moly Superbells, Yellow Superbells and Vista Fuchsia Supertunia.
In the world of petunias and million bells, there's every color imaginable, including outstanding bicolor pinwheel blooms, like the pink and yellow Holy Moly Superbells in this container. For a fabulous combination, grab a pot of a bicolor millon bells or petunia, and pair it with other million bells or petunias that open flowers in each of those colors. In this pot, Vista Fuchsia Supertunia and Yellow Superbells echo the pink and yellow of Holy Moly. This technique offers a goofproof container idea that has the touch of an artist.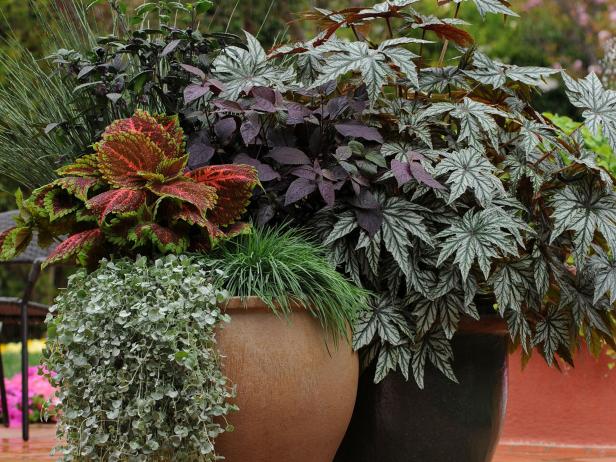 Foliage Plants In Container Gardens
Fill containers with foliage plants to create combinations that are eye-catching and beautiful.
Ball Horticultural Company
Fill a few containers with nothing but foliage plants for a textural, colorful collage that won't disappoint. The front pot features Silver Falls dichondra, Kong Coleus and Coolio ColorGrass (Koeleria glauca). The large-leafed plant in back is Gryphon begonia, and it's paired with Purple Prince Alternanthera and Black Pearl ornamental pepper. If you're not ready to go full-on foliage, try adding one or two leafy plants to a pot with one of your favorite flowers.
Zahara Zinnia
Zahara zinnias flower all season long. Leaves resist diseases that typically attack zinnia leaves.
Ball Horticultural Company
Zinnia is a nostalgic garden flower, a beloved favorite your grandmother probably grew. Beloved classics never go out of style—they just get better. Zinnia is no exception. Breeding breakthroughs have expanded the zinnia line to include disease-resistant spreading types, like Zahara zinnia. Plant every color you find in a pot, and you'll have a container that looks good all season long.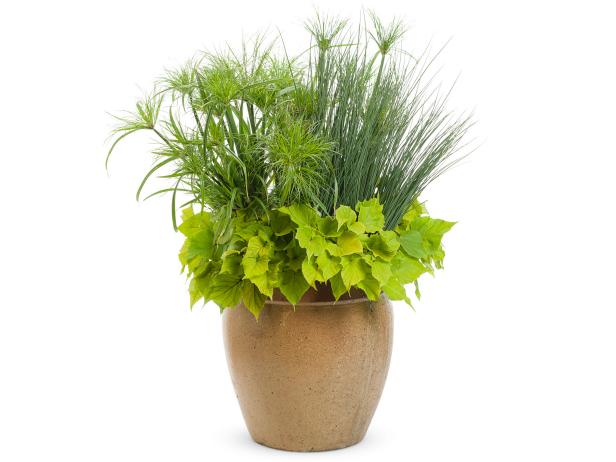 Papyrus And Juncus In Container Garden
Water garden plants like Dwarf papyrus and Blue Mohawk juncus grow easily in containers. Skirt with Sweet Caroline sweet potato vine for a classy combination.
Traditional pond-side plants like papyrus and juncus have found their way into garden centers, and they adapt readily to growing in containers. They come in a variety of sizes and easily become statement pieces on a patio, thanks to their quirky leaves. This pot features dwarf papyrus (umbrella-looking plant) and Blue Mohawk juncus (straight stems), skirted with Sweet Caroline sweet potato vine. When growing water loving plants, give pots a deep saucer to keep soil consistently moist.